This zombie dragon was entered in the golden bat 2011 conversion contest hosted by carpe noctem and sponsored by mantic games. It took 3rd place.
Here are the pieces used. I had an old kit of a zombie dragon from the 90's that I never did anything with so that made the perfect starting piece. Given the size of todays models I knew right away that this zombie dragon was in need of an upgrade. I wanted a longer neck and tail, so greenstuffing was going to be part of it, and according to the competition I was going to need to do a lot of altering/sculpting to qualify. I picked up some broken coaster bits for the base, I was thinking of having him clinging to the side of a cliff or rocky outcropping. A rider was a must as in the actual game of warhammer you can't just take a zombie dragon by itself and I wanted a model that I can actually use in a game. I found some jeweler chain in my bits box that would make suitable reins. I went with the old red duke vampire model for the rider, since he is kinda rearing back and has a flowing cape behind him, his left arm is also positioned well to look like he has reins bunched up in his hand. For the wire frame I wanted something strong that I could bend into the shape I wanted and have it stay that way, I looked into a lot of different wire type things (copper electrical wire, clothes hanger etc.). I settled on a piece of wire clipped from a whisk from the kitchen. It matched my criteria; strong but just flexible enough to get the shape I wanted, and it just happened to be the same diameter as the largest bit in my hand drill.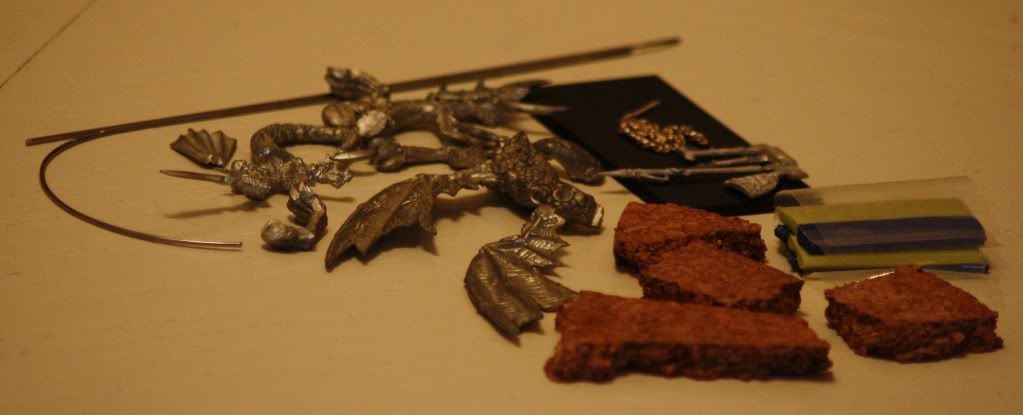 Work in progress. Here you can see I've pinned the wire frame for the neck and tail and positioned the body to be climbing up one side of the rocky outcropping. The meat of the tail has been sculpted as well as a few of the larger scales on the ridge. I decided to put a casualty on the base at this point and found a perfect model for it in my bits box. I was some (reaper I think) monk model that would make a convincing barbarian if lying face down. I ripped one of his arms off and greenstuffed a bit of guts and gore coming out of his underside. I put and old bow in his hand and and arrow in the other with a quiver not too far off. I then added three arrows the the zombie dragons torso. The arrows are in a pretty tight shot group, heh the barbarian was a good shot but not smart enough to realize shooting a zombie in the heart has no effect.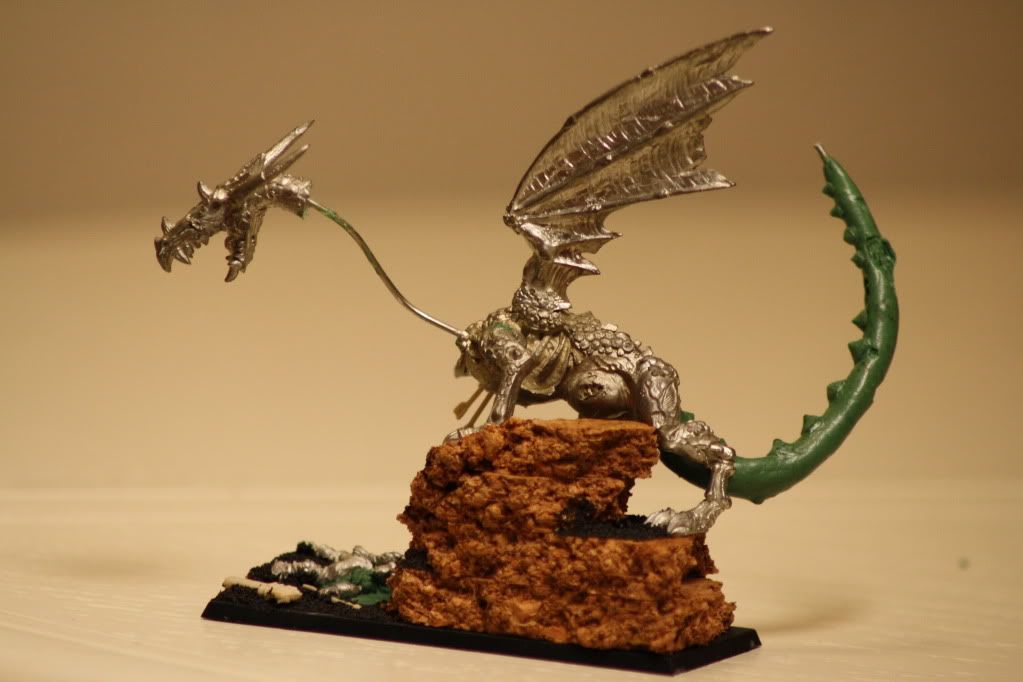 On this side you can see where the dragon is gripping onto the side of the rocks, I really like the way the position turned out, I was able to fill in under his left front claw with small bits of cork and then fill in between all of his toes with balast that a friend gave me to use as sand. All of his claws are now seamless on the rocks.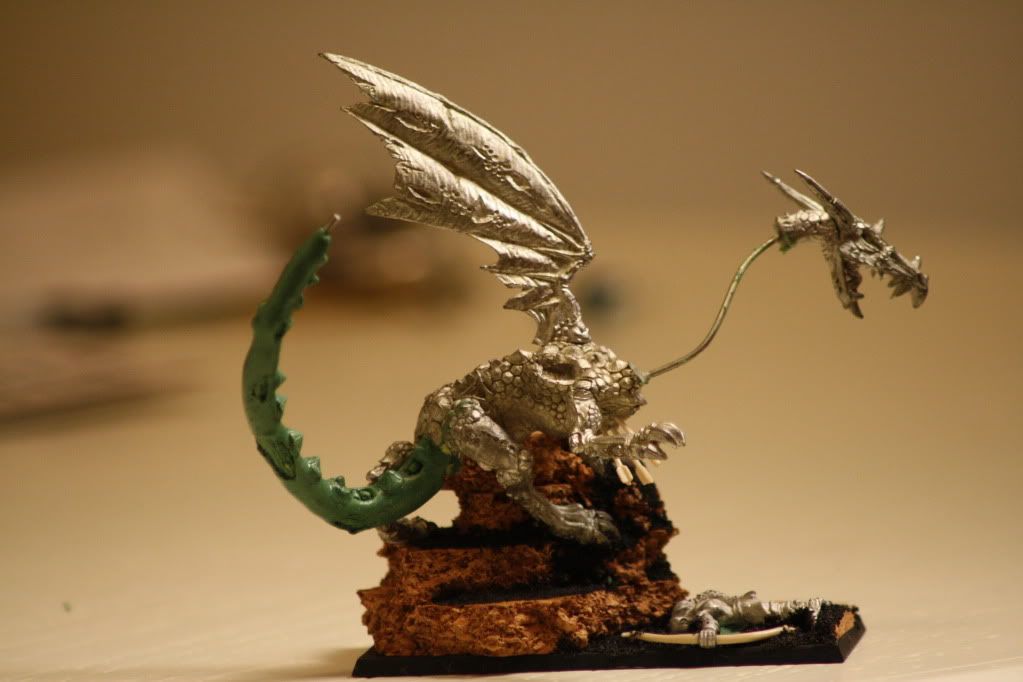 Some finished pre-paint shots. Here the zombie dragon conversion is done. The neck and tail were finished, the end of the tail was popped on and the scales were all added. I did the scales by rolling greenstuff into a long strand and taking a tiny piece of it at a time, rolling it into a ball and pressing it on with a sculpting tool. It took forever but I think it was worth it.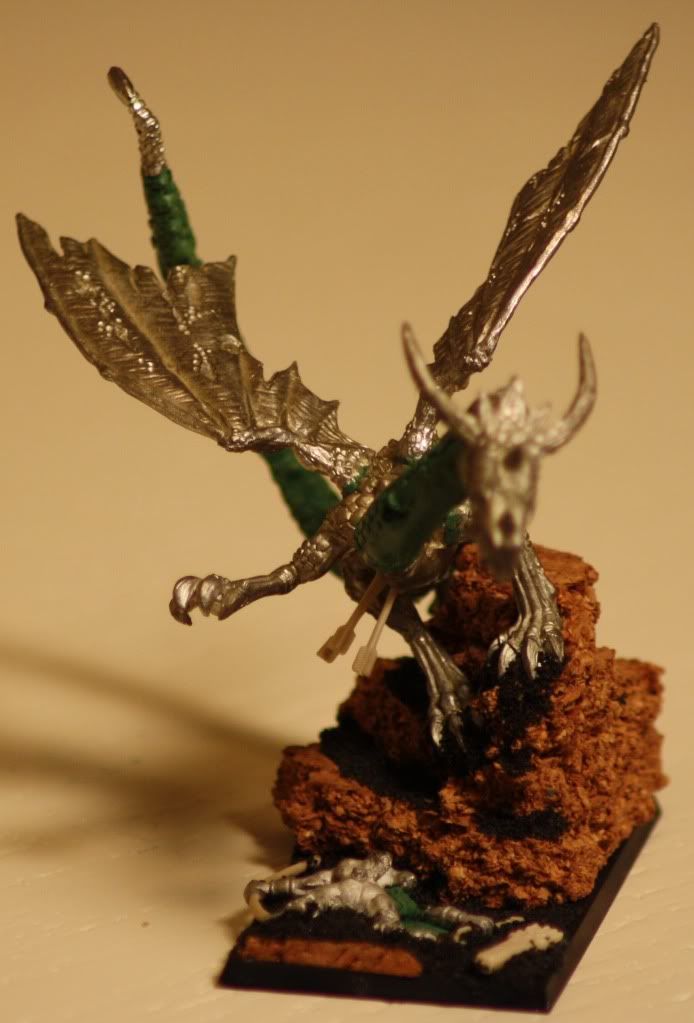 Here are a couple shots with the rider attached. Adding the rider was pretty easy since the red duke miniature was already positioned the way I wanted it to be. I just greenstuffed a strap to his hand and glued the chain to the zombie dragons head. The cape was slightly bent upward to give more motion to the model.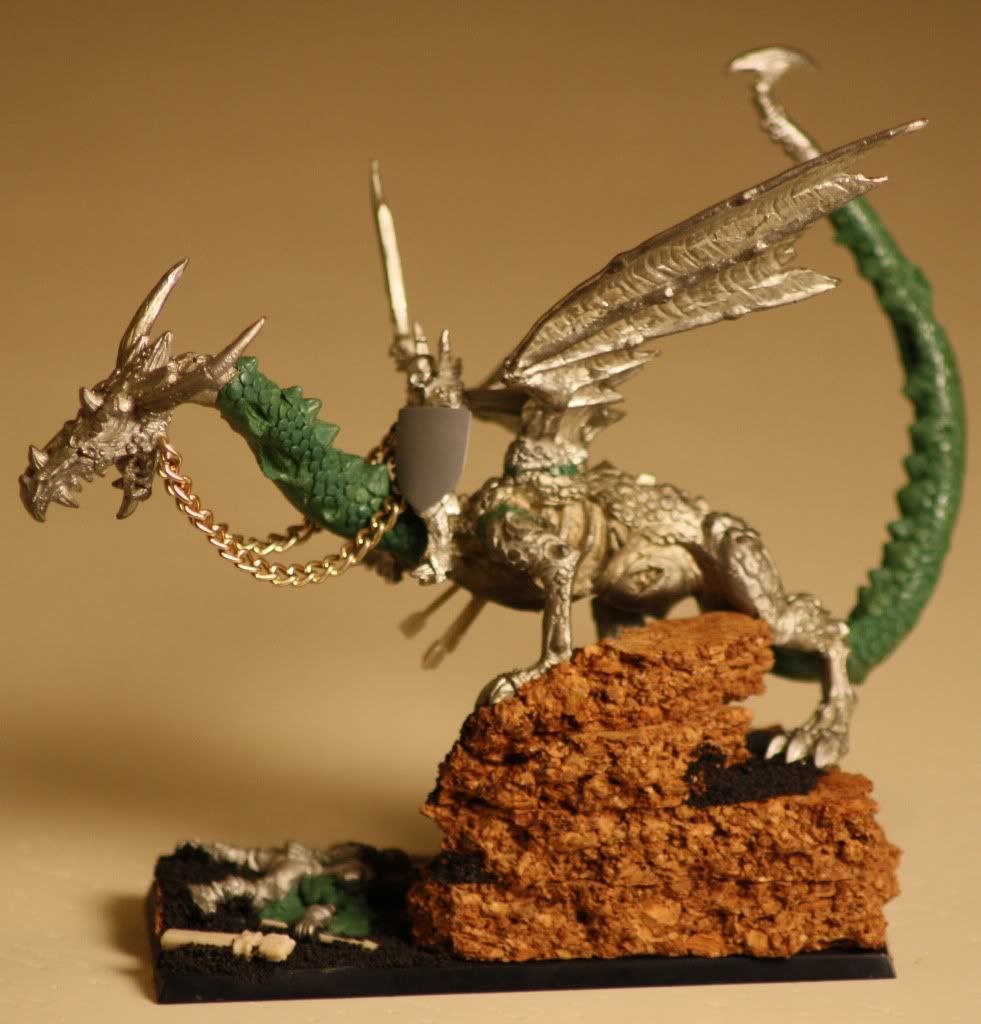 And a shot after some primer. Here is where the model is at currently. I removed the rider and chain for painting but now I may make some changes. The guys on carpe noctem have given a couple of suggestions that I think I must do. First is to get rid of the jeweler chain in favor of a regular looking chain. Makes sense why would this guy have a giant necklace to hold his dragon with? The other thing is the wing size, after the neck and tail enlargement the wings are starting to look pretty small. Not to mention games workshop just released a new zombie dragon model with gigantic wings. This thing will look a little small next to it. I'm open for any suggestions on how to make the wings bigger. I'm thinking maybe extend them with cardstock or something similar. Or perhaps finding new wings altogether.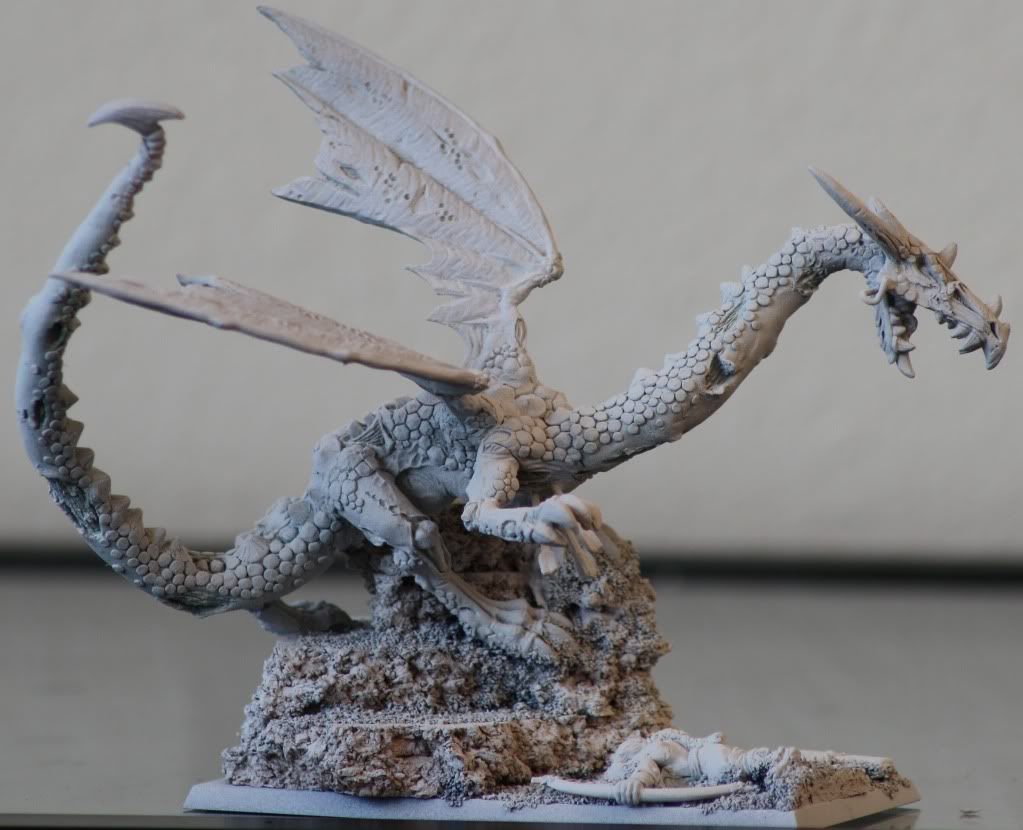 That's where it's at right now. Sadly no paint yet.