A paladin to lead my men at arms regiment. I started this guy by positioning him in the unit he will be leading to see if I may need to bend or alter his stance. Turns out I did need to do something as he was hitting the guy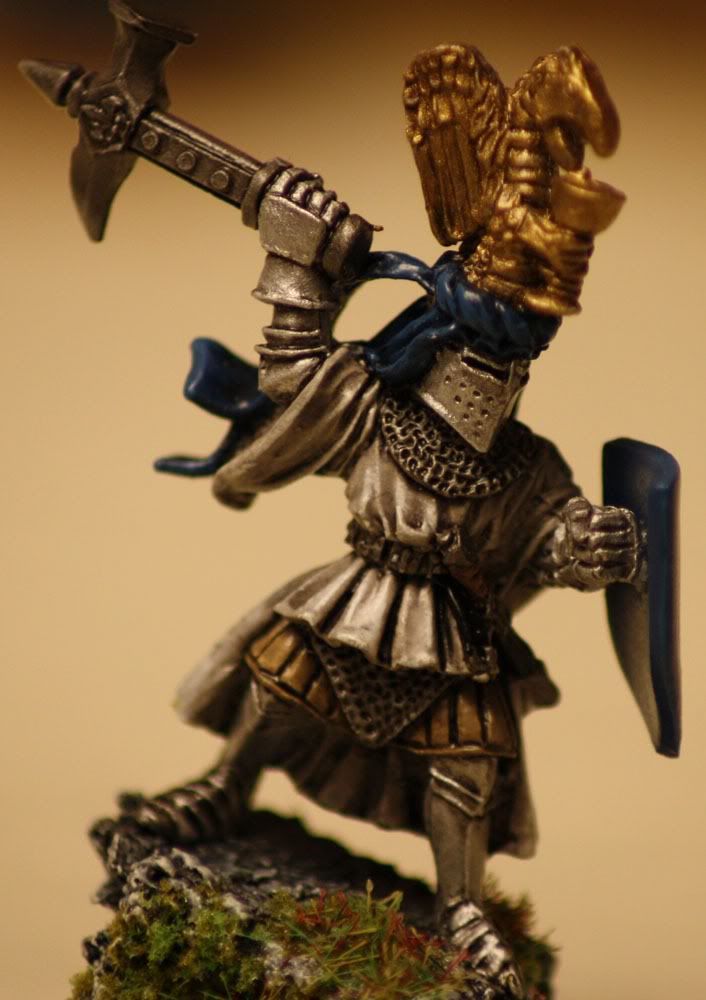 behind him in the head with his hammer. As you can see from the miniature bending would look bad so I raised him up and put him at an angle so his hammer clears the man behind him. I sprayed him with white primer and got down to business. I picked white and blue as his main colors so that he would match the men at arms unit he is leading. This means that they are his troops brought to the battle from his domain. I also figured that being a foot regiment these guys would be a sort of engineer corps in my bretonnian army, so I chose the castle as his personal heraldry. The blue I used is model color prussian blue, I like this color a lot, it has a nice even finish and doesn't have a problem going over other colors. The tunic was based with model color sky grey and dirtied up with citadel badab black, then highlighted back up a bit with sky grey and citadel skull white. I wanted it to look a bit dingy, since he fights on foot with men at arms. The armor was done with vallejo liquid silver, washed badab black then highlighted with citadel mithril silver. The helmet was done with vallejo liquid green gold then washed badab blacks and highlighted with citadel burnished gold. His warhammer was done with citadel boltgun metal and washed badab black. For his base I've incorporated some static grass along with model train grass that I think makes good moss type stuff. Overall I like the way it turned out, I wish I had highlighted the gold a little bit more but he stands tall over his man at arms which looks pretty commanding.
And some troops.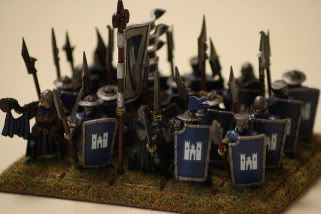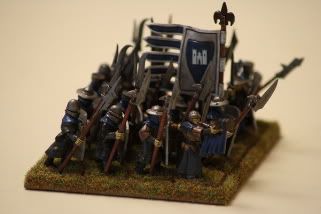 Some close-ups.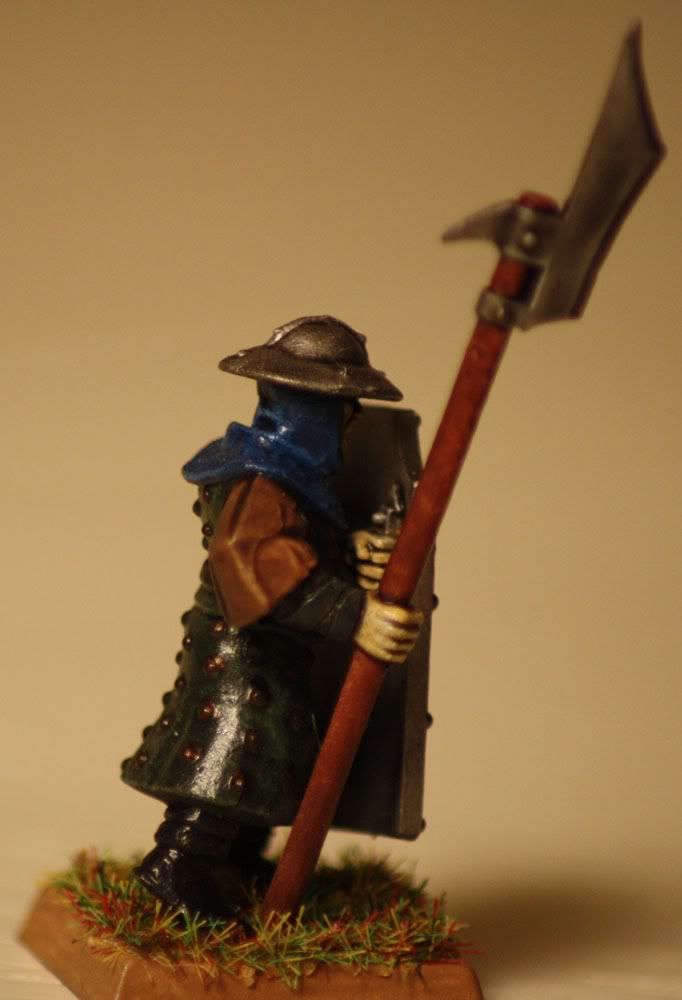 The men at arms were done with a wide variety of color schemes from dark greens to black to various browns and tans. I wanted them to look like they had a collection of old military uniforms perhaps passed down from older generations. To tie them together as a cohesive unit though I made all of their neck wear prussian blue and of course their shields have all the same heraldry. These guys were very quick to paint using mostly basic techniques to get a tabletop quality finish. All colors were base coated, then washed, then touched up/ highlighted. Real simple. For the bases I wanted a lush green heartland of bretonnia look so I went with my usual model color US tan earth as a base then added a layer of model train grass in a thick amount on top. After that I put a heavy amount of citadel scorched grass to finish it off. When these guys are based side by side on my movement tray it looks like one solid lush green strip of grass. This is also the point when I started magnetizing my bases and building unique movement trays for each unit. Sadly the tray I made these guys only holds a 20 man unit, I have since decided to add 30 more men to this unit. So that tray will likely get very little use. 8th edition warhammer is no place for small units.